Every Bundesliga club's most expensive signing
2.10.2021.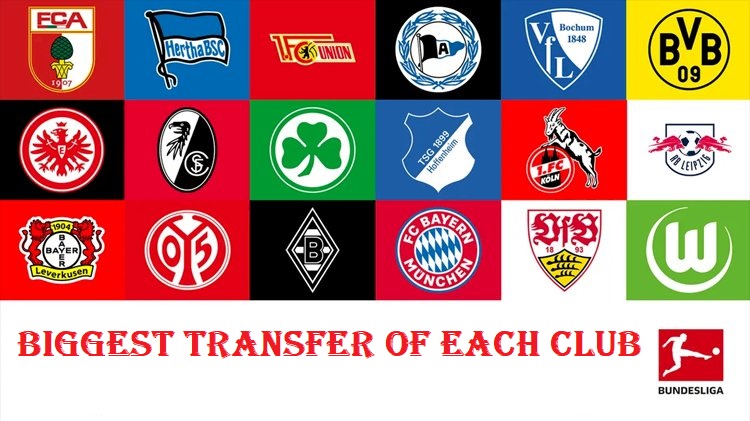 With the financial crisis inflicted by the covid-19 pandemic, the clubs across most leagues - all but English - are in a plateau or downfall when it comes to transfer spending. Providing at least a suitable time to check each club in the top five league's top signing ever. Starting with every Bundesliga club's most expensive signing.
With the expected team at the very top, second-place surprisingly not going to the "second" club of the country, and only two Germans as subjects of record transfers of German clubs. With the purchases presented in alphabetical order according to the clubs' names.
Arminia Bielefeld - Robin Hack for €2,500,000 in 2021
One would think that with the rise of the economic power of clubs everywhere, all of these transfers will be from recent years. That is not the case but is for Arminia Bielefeld who signed their record signing in August of 2021. The 23-year-old left-winger Robin Hack was bought from Nuremberg for a fee of €2,500,000 and signed a contract until 2025. He has so far played six games in the Bundesliga for the club, not getting a goal or an assist. Hack went through Hoffenheim's credited academy and made five appearances for Germany's U21 side, scoring three goals. Arminia's other biggest purchases happened in 2008 and 1999.
Augsburg - Martin Hinteregger for €10,500,000 in 2016
Austrian centre-back Martin Hinteregger was bought by Augsburg before the 2016/2017 season for a strong fee, even though he was a promising centre-back. The man who played 62 times for his country got to 83 caps for Augsburg after coming from Red Bull Salzburg. He scored five goals but was firstly loaned out and then sold to Eintracht Frankfurt for €9,000,000. Augsburg is the 12th club when looking at only their record transfer signings.
Bayer Leverkusen - Kerem Demirbay for €32,000,000 in 2019
Earning Bayer Leverkusen the fourth spot when looking at each club's record signing is Kerem Demirbay who was signed from Hoffenheim two seasons ago. The two-time capped Germany international played 85 games for the club from the BayArena, scoring nine goals and making 31 assists. At Hoffenheim, in a similar number of games, 88, he scored 12 and assisted 27 goals. His market value has dropped almost half according to Transfermarkt and he is now valued at €18,000,000 aged 28 and with three years left on his contract.
Leverkusen has five other signings that are above the 20 million euros mark, and 20 overall that are over the 10 million euros mark.
Bayern Munich - Lucas Hernandez for €80,000,000 in 2019
Surprising no one, Bayern Munich spent the most on a single player than all the other clubs in the Bundesliga. Almost twice as much as the second-placed club. Lucas Hernandez had a massive release clause in his Atletico Madrid contract and Bayern's sporting director Hasan Salihamidzic decided it was worth paying. The now 25-year-old versatile defender has played only 66 games in that time, losing his spot on the left to the then anonymous Alphonso Davies but also battling injuries. His market value went from €70,000,000 at the time of the move to €45,000,000 now.
Bayern's second-biggest signing is Leroy Sane who joined the club for the initial €45,000,000, while the third is this summer's reinforcement, the €42,500,000 paid Dayot Upamecano. Bayern paid 36 of its players 10 million euros or more.
Bochum - Georgi Donkov for €1,500,000 in 1996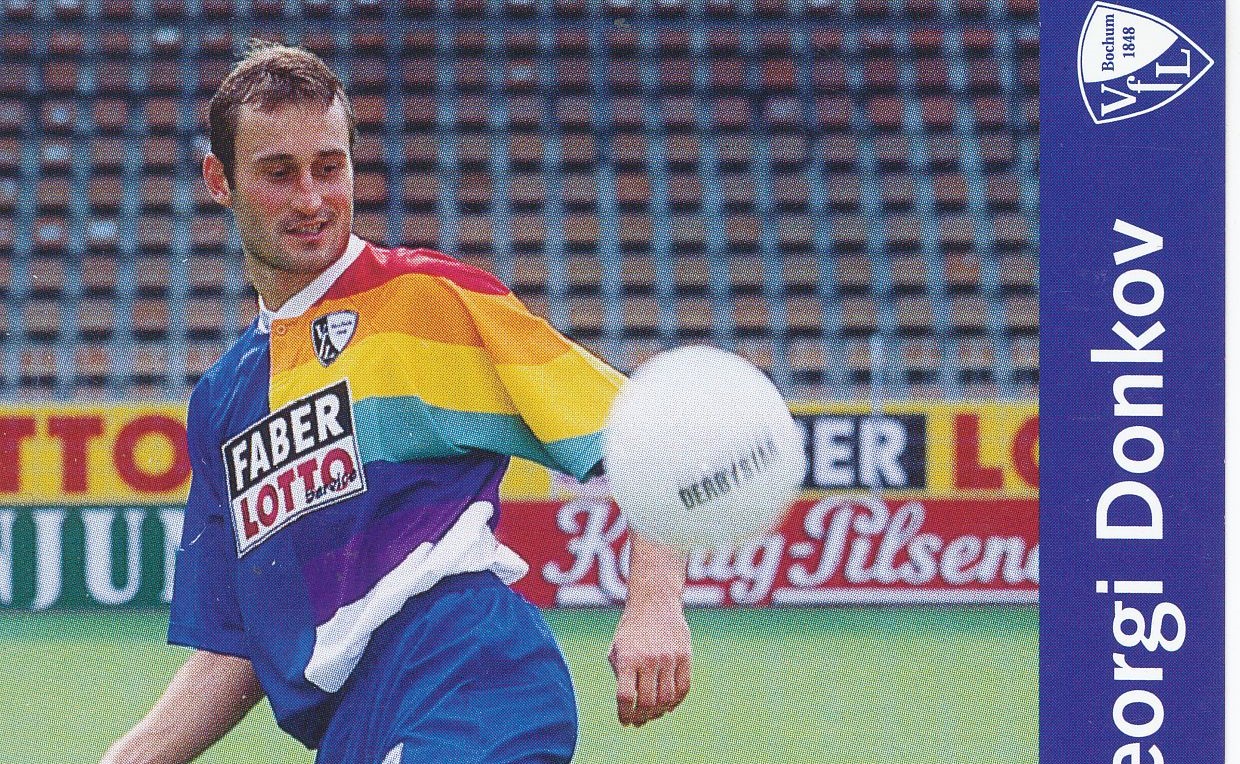 Second to last in terms of spending money on one player in the Bundesliga is Bochum, but what makes their biggest purchase incredible is that it happened in 1996. For a side that has spent the larger part of the first decade of the 21st century in the top division, that is wildly surprising. Arriving from his native Bulgaria and CSKA Sofia Donkov did solid and scored 15 goals in 62 matches with five assists. He was sold after two years to Koln for a million. He ended up playing 10 games for the national team of his country.
Borussia Dortmund - Ousmane Dembele for €35,000,000 in 2016
Considering how many amazing players Borussia Dortmund had in its ranks it's absolutely surprising that Ousmane Dembele is their most expensive purchase. Probably masked by the massive fee they got from Barcelona for him, when he is considered a bitter flop. Yet, at BVB he hardly earned such a fee considering how Jadon Sancho went for far less money with better stats. In black and yellow, Dembele scored 10 goals and made 22 assists in 50 games after coming from Rennes. Infamously, he trashed the house BVB was renting for him in order to force his way to Catalonia.
Dortmund paid the prodigal son Mats Hummels €30,500,000 for his second stint in 2019, while this summer's signing Donyell Malen has a baggage of €30,000,000.
Borussia Monchengladbach - Alassane Plea for €23,000,000 in 2018
The now 28-year-old Alassane Plea saw his market value rise quickly upon arriving at Monchengladbach as he scored a solid 15 goals in 35 matches across all competitions the first season in Germany. All after bagging 21 in 49 in his last season with Nice. Yet, overall, Plea has been mediocre and in 113 games he has 38 goals and 20 assists, but scoring only six times in the last Bundesliga campaign. With his contract expiring in 2023, one-time capped French striker Plea's future might be taking a turn sooner rather than later.
The Foals have Germans Matthias Ginter and Christoph Kramer are the second and third most expensive signing of their history with 17 and 15 million euros paid.
Eintracht Frankfurt - Luka Jovic for €22,340,000 in 2019
The first coup we have on this list of Bundesliga clubs' most expensive signings as Luka Jovic turned quite the profit for Eintracht. Jovic was firstly brought in on a two-year loan from Benfica for a fee of €200,000, then at the end of the term he was signed for the predetermined sum of €22,340,000. Immediately thereafter Real Madrid bought the Serbian for €63,000,000! Making Luka the most expensive purchase and the most lucrative sale of the club. The 23-year-old even returned to Waldstadion for a half-season loan last campaign. During his second season with the club he had a massive season scoring 27 in 48. Overall, including the loan from Real, he has 40 goals and 10 assists in 93 games for Frankfurt.
Freiburg - Baptiste Santamaria for €10,000,000 in 2020
One of six Frenchmen who were the subject of Bundesliga clubs most expensive signings, Baptiste Santamaria arrived at Freiburg in the summer of 2020 and stayed only for one season. Playing 33 goals in a season for the German side, scoring one goal and making two assists, the 26-year-old earned a €14,000,000 move back to his homeland as Rennes called. Freiburg's second most expensive signing is now Leicester's Caglar Soyuncu who arrived when he was 20, while the third spot is reserved for Vincenzo Grifo who is still at the club.
Greuther Furth - Nikola Djurdjic for €1,000,000 in 2013
Dead last in the rankings of Bundesliga teams' most expensive signings is Greuter Furth, and with the current season being only their second ever in the first rank, it's not surprising. Although the record sum paid for the player is low even by second-league standards. One of two Serbian strikers on the list, the nomad Nikola Djurdjic stayed for two half-seasons with Greuther Furth, scoring five goals in the Bundesliga, and another five in the second league, for a total of 33 matches and 10 finishes. The now 35-year-old moved on a year later for €1,300,000 signing for Augsburg.
Hertha Berlin - Lucas Tousart for €25,000,00 in 2020
With the Berlin club getting significant financial injections in recent times, there were several big-money transfers coming to the Olympiastadion. Lucas Toussart, aged 22, was the priciest, being Krzysztof Piatek (€24,000,000) and Dodi Lukebako (€20,000,000). Tousart was signed in the winter of 2020 but stayed with Lyon for a half-season, joining Hertha in June of 2020. The French defensive midfielder played 34 games for the German side since, scoring once and assisting once, with his market value currently at €16,000,000 with his contract going until 2025.
Hoffenheim - Diadie Samassekou for €14,000,000 in 2019
Another player bought from Red Bull Salzburg, defensive midfielder Diadie Samassekou arrived in the summer of 2019 and was put to frequent use. Gathering 62 caps for Hoffenheim even though he missed around 100 days of action due to various injuries and health issues. His market value has dropped since his time in Austria when it was €20,000,000 and now it coincides with the fee paid for the Mali international. Munas Dabbur and Andrej Kramaric are the next most expensive Hoffenheim players, paid €12,000,000 and €11,000,000 respectfully. With the latter being one of the most notable players of the club ever, nearing his 100th goal for the club in around 200 matches.
Koln - Jhon Cordoba for €17,000,000 in 2017
A decent return at Mainz 05 recommended the then 24-year-old Jhon Cordoba to Koln where he had a solid return of 37 goals in 86 matches. Yet his biggest return was in the second season with the club, after relegation to the second division. That's when Cordoba scored 21 of his goals, leaving only 13 goals in the Bundesliga where he played 47 games with the goat across his chest. He later moved to Hertha for €15,000,000 in 2020 and has since been sold for more at €20,000,000 with Krasnodar picking him up despite weak numbers in Berlin.
Koln's second most expensive signing was the return of their prodigal son Lukas Podolski for €10,000,000 from Bayern Munich. The third is an up and coming youngster Sebastiaan Bornauw who was already turned for a profit.
RB Leipzig - Naby Keita for €29,750,000 in 2016
A massive transfer flop for Liverpool, meaning that he was a major success for RB Leipzig in order for LFC to pay €60,000,000 for him. Double the amount RB Leipzig paid to its sister club Red Bull Salzburg in the summer of 2016 after Keita played 81 games for the Austrian side, scoring 20 times and bagging 11 assists. In Germany, Keita played 71 games, scored 17 goals as a central midfielder, and got 15 more assists. Which explains why LFC paid him so much.
RB Leipzig ranks fifth with this purchase, right above Hertha's and below Bayer's most expensive signings. Their most expensive signing is in fact Andre Silva though, as he was paid €35,000,000 total but because his agent got €12,000,000 of those millions due to the previous agreement with Eintracht, Silva isn't ranked on the list by Transfermarkt. Timo Werner rounds up top three with his €22,200,000 move.
Mainz 05 - Jean-Philippe Mateta for €8,000,000 in 2018
The still young centre-forward Jean-Philippe Mateta is another French league product on this list of German club's most expensive purchases. Arriving in the summer of 2018 from the hothouse of talent in Ligue 1, Lyon, Mateta gathered 27 goals in 71 games for the Bundesliga side, alongside five assists. The tall player has since moved on to Crystal Palace on an 18-month loan for a fee of €3,000,000, back in January of 2021, with an option to buy for €15,000,000 more.
Mainz is a team which has a draw on its list of most expensive signings as the centre-back Jeremiah St. Juste also came for €8,000,000 in the summer of 2019. He has since played 66 games for the club, scoring twice.
Stuttgart - Nicolas Gonzalez for €11,250,000 in 2018
For some the biggest talent dispensary in German football, Stuttgart also struck gold with their most expensive purchase. Getting Nicolas Gonzalez from Argentinos Juniors when he was just a 20-year-old junior, having the left-winger play 79 games for the club and move on for a profit. In the second division, the youngster scored 14 goals and made three assists in 27 games. Overall he has 33 goal involvements in 79 games for Stuttgart. Now, he also became Fiorentina's most expensive player ever, as his move this summer cost €23,500,000.
Ozan Kabak barely missed out on the first spot for Stuttgart's history books with his €11,000,000 move, while Pablo Maffeo was paid €9,000,000.
Union Berlin - Taiwo Awoniyi for €6,500,000 in 2021
Just the second inductee amongst Bundesliga clubs' most expensive signings that was brought in during the summer of 2021. Only 24 years old, yet the centre-forward Taiwo Awoniyi already had six different loan destinations as a Liverpool player, going to Mouscron twice at that. He was with Union Berlin on loan too last season, scoring five goals in 22 games which was enough for the club's executives to make him the most expensive signing of the club. This year he is five in five though!
Robert Andrich is the second most expensive signing of the capital club, paid €3,150,000, while the third is the also 2021 newbie Tymoteusz Puchaz who was paid only €2,500,000.
Wolfsburg - Julian Draxler for €43,000,000 in 2015
The second most expensive record signing of a single Bundesliga club is Germany's winger Julian Draxler, who was bought for €43,000,000 in the summer of 2015. It is now forgotten just how big of a prospect Julian was, but his statline for Schalke speaks volumes as he got to 170 games for the club, scoring 30 and making 29 assists, with only 21 candles on his last birthday cake. His weaker return with Wolfsburg where he stayed for only one and a half-season, eight goals and 10 assists in 45 games resulted in a lower fee when Paris Saint-Germain came knocking with it being €36,000,000.
Draxler's move to Wolfsburg is so grand that it would be Bayern Munich's third most expensive signing too! Andre Schurrle is the club's second-most expensive signing when he arrived for 32,000,000 and Kevin De Bruyne was paid €22,000,000, with both coming from Chelsea.