Diego Simeone, the man who is playing a real-life Football Manager save
11.7.2021.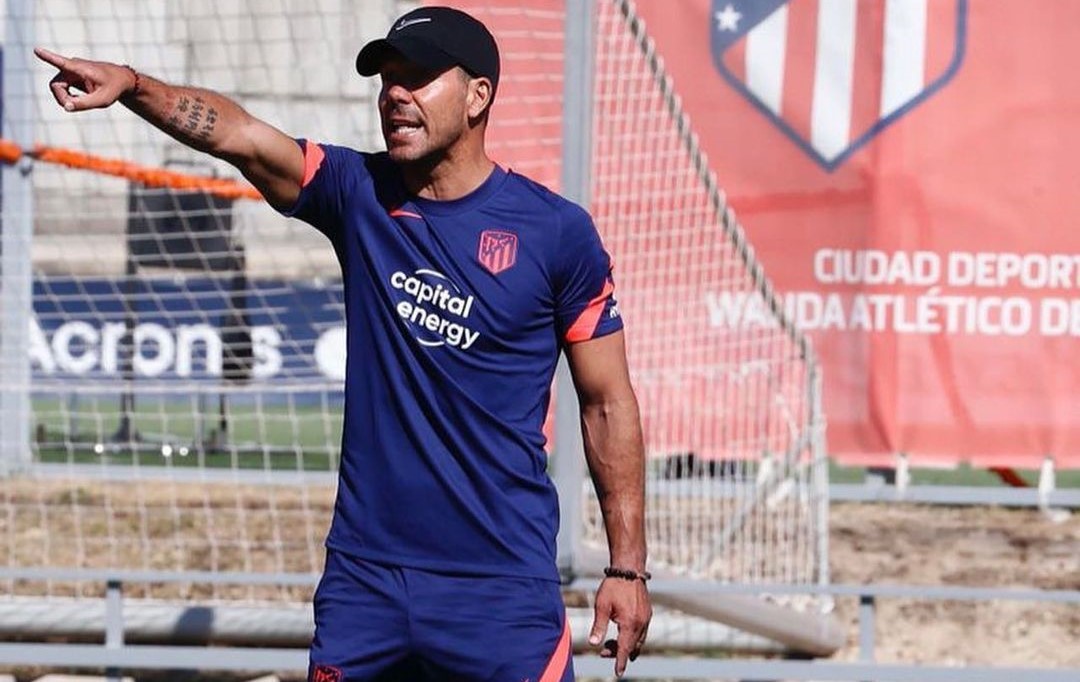 In the last nine and a half years Diego Simeone has been at Atletico Madrid, both members of the Spanish big-two, Real Madrid and Barcelona, have changed managers seven times. Each! While Atleti have stayed faithful to Diego Simeone even though football trends have changed multiple times during his era. Even though not every season was memorable. Even though the club failed short at two of the biggest opportunities in the Champions League against their biggest rival.
And why wouldn't they? Diego Simeone has elevated not the team of players at his disposal, he truly lifted the club as a whole massive entity. Such effect of an individual is only familiar when going through friends' dubious Football Manager saves for which they swear they didn't use loading back after disappointing results.
Completely logically, Atletico made Simeone extending its contract the priority for the club this summer and they've achieved it early on. Cholo extended his stay until 2024 in the second week of July! Of course, while he is the beacon and the avatar of Atleti's recent successes, he has a team that he would first credit and they all, Oscar Ortega, Pablo Vercellone, Nelson Vivas, and Hernan Bonvinvini, have also signed new three-year deals with the club.
Simeone is about to take the side into his 11th season as the manager, becoming the person who has coached a team for the most consecutive seasons in LaLiga!
Simeone was hired in December of 2011, since then, both El Clasico rivals separated ways with tacticians seven times each. Pep Guardiola was still at Nou Camp when Simeone came in, he was then followed by the now-deceased Tito Vilanova, who was replaced at the bench by Gerardo Martino. Luis Enrique and Ernesto Valverde had medium length stays in Catalonia, while Quique Setien was short-lived before Ronald Koeman arrived. With his place not being cemented by any chance, a title or a Champions League trophy in the following season are the only guarantees he would stay.
At Santiago Bernabeu, Jose Mourinho was in charge of Real when Simeone arrived. Followed by Carlo Ancelotti, who gave way to Rafael Benitez, the Spaniard who stayed only for 25 games. Zinedine Zidane's first stint followed, and his replacement was difficult to find, as Julen Lopetegui stayed for only 14 games, while Santiago Solari got 32 matches of credit before Zizu returned. This summer, Real called back Carlo Ancelotti who will face a familiar foe in the dugout of the unknown stadium Wanda Metropolitano.
Cholo's stint at Atletico had him lead the side in staggering 527 matches! That's more than Zizu has in both his stints even when combined with Ancelotti's games - only 382 games. For Barca, Valverde, Enrique, Setien, Koeman, Martino, and Vilanova combined have fewer games than Cholo - 509 total.
Atletico stayed with Simeone despite the Argentinian having a worst win ratio than what Solari had at Real during his short stint - 68.75% compared to Diego's 59.96%. Actually, of all the mentioned Real managers, only Solari has a lower win ratio at 42.86%. All Barca managers in Simeone's era at Atleti have a better win ratio, even Setien. Yet Real has only three La Liga titles compared to Simeone's two, with a much bigger investment over the years.
It might not see that stark of a difference now, with Atletico dishing out €126,000,000 for a teenager in Joao Felix, but it was a wild dream of a crazy person that the second Madrid club would spend that much in the future when Simeone came to the club as a manager.
When Simeone arrived at Atletico Madrid, the club's last league positions were ninth and seventh. In the half season he led the team in the 2011/2012 campaign, Atleti were fifth. Since then, they haven't placed outside the top three. Practically creating the big three in Spain!
The last time Atletico placed in the top three was when they last won the league, back in 1995 when the now-deceased Radomir Antic led the club. With Simeone in the team. Since then, the club's best placement were the fourth spots held in two seasons when the attack was fielded by Sergio Aguero and Diego Forlan. With even a stint of two seasons in the Segunda between the two triumphs, that of Antic and of Simeone.
The Argentinian waited for his own managerial trophy for only two and a half seasons, in the era of Cristiano Ronaldo and Lionel Messi! Now, Cholo grabbed his second, Atleti's 11th title in the 2020/2021 season. All while Barca still fields Leo Messi and has spent so much in the past that the club is now in serious financial peril. While Real invested half a billion in its squad in the past several years.
Simeone completely transformed Atletico from an outsider with rare successes, into not just a Spanish big fish, but a European contender, a shark most sides are dreading in the knockout stages.
Besides the two La Liga titles, Atleti managed to get into two Champions League finals, yet they were defeated by their biggest rival from the same city. While it is surely the biggest pain of not just the Cholo era, but of the club's entire history, it's also a credit to the way Simeone managed to continue leading despite such heavy blows. He adapted and made team switches if needed, but his unit rarely looked out of practice and never out of battle.
Diego lifted one trophy and one Copa del Rey during his playing time at Atletico, a side he represented with a shirt on for 155, more than for any other club, although in two stints.
As a manager, he greatly increased the size need of the club's trophy cabinet, getting also one Copa del Rey, two mentioned league trophies, but also the Supercup of Spain. In Europe, Cholo graduated by winning the Europa League in 2012, repeating the success in 2018 as mend to the CL wounds. The side also won the UEFA Super Cup against Champions League winners in 2012 and 2018 both!
Besides the trophy haul, Atletico improved its stature and financial power in almost a decade under Simeone. The club announced plans to build a new stadium in 2013 and since 2017 Wanda Metropolitano, a stadium with a capacity of 68,465 seats was used as a cornerstone of the new Atletico. The one who could spend €126,000,000 on one player and even outbid Real and Barca.
Of the top 15 most expensive Atletico purchases, only one was made in the pre-Simeone era, Radamel Falcao who arrived just before it. The Colombian ended up playing 95 games for Cholo, scoring 70 goals. Aguero, Forlan, Simao Sabrosa, and Christian Vieri are the only other ones signed outside the Cholo era in the top 25 of Atleti's most expensive signings!
But the club was in the position to sell its players for massive fees. Of the top 10 most expensive sales of Atletico Madrid, only two were made before Simeone took the reins - that of Fernando Torres to Liverpool in 2007 and Kun in 2011. When looking at the 25 biggest sales of Atleti, Bobo Vieri, David de Gea, Jimmy Floyd Hasselbaink, and Jose Mari are the outnumbered ones who didn't get to work with Cholo in Atletico.
Simeone managed to elevate the club by employing militaristic discipline and commitment yet without the ego of some other top football managers. As his own soldier Marcos Llorente stated, Atleti adjusted to several opponents this last campaign in the league, Simeone doesn't suffer from complexes of needing to keep to his footballing formation. Philosophy, yes. That of dying for the badge and playing to the bone.
He changed the DNA of the club, going from the widely accepted mentality of Pupas, or the "Jinxed club" to that of Chollismo. Taking it a game at a time. Just a game at a time and over time, turning it into an empire. One you would be proud to show on a Football Manager save, let alone to build on actual grass.