City met Godin's release clause in 2015 but Cholo and teammates threatened to leave if the transfer was allowed
3.4.2021.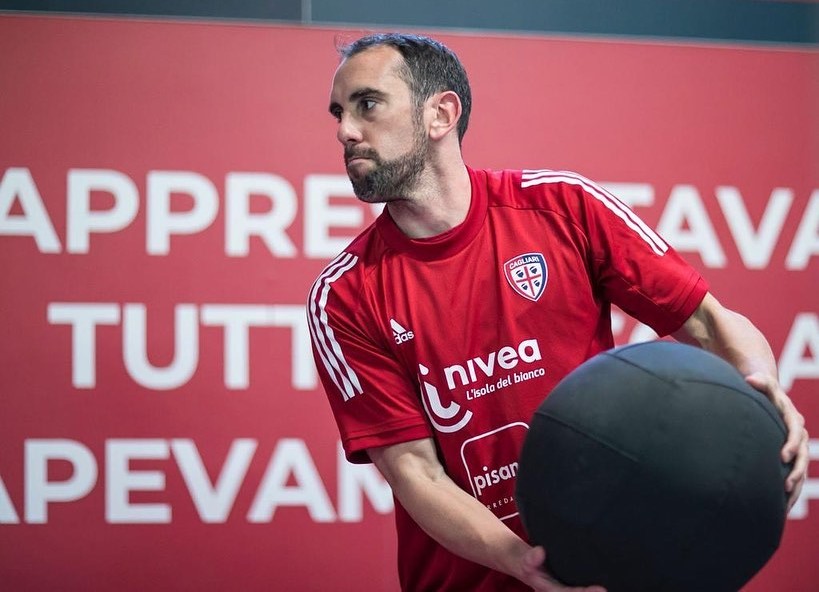 Atletico Madrid has been leading La Liga race in the 2020/2021 season but the foundations of this run has been set some years back. With Diego Godin as the second in command behind Diego Simeone, when Atleti won the title and reached two Champions League finals. Godin was allowed to leave two summers ago, as his contract expired, moving to Inter but then passing on to Cagliari.
In a recent interview, the Uruguyan touched upon many interesting things, including a 2015 Manchester City transfer that never came to be because of a mutiny of sorts. As well as Cholo's son, Atleti's player of the season, and playing for the Italian side.
The Atleti legend spoke about the change in levels, as he is now battling relegation with Cagliari.
"When I started in Cerro, in Uruguay, I experienced similar situations, I was younger, my naivety was different. After so many years in Europe fighting titles, it is more difficult because I came to Cagliari to try to lend a hand, the idea was to help Cagliari fight for the Europa League positions, to take a step further, which was what the president wanted. And we entered this situation that generates a bit of anguish, a bit of nervousness and for me, who am one of the veterans of the team, it generates a lot of responsibility," said Godin in an interview with As.
Cagliari has a good side, including Radja Nainggolan and Cholo Simeone's son, Giovanni. For whom a change of leagues might be on the card, Godin reveals.
"Gio is a great boy, very good, a piece of bread. He has a very good attitude, he trains well, he is always positive, he is always trying to improve, he talks to the coaches to see what he can improve, to find out where he went wrong. And he has a physical strength which is what gives him that plus near the area, he is a great finisher. He told me that in the Italian league it is more difficult for him because he has to play many times on his back, the defenses are very tight, they are very tactical teams and he with spaces, reaching the area to define or running into space, he feels more comfortable," said Godin of the 25-year-old.
Godin then talked about the club he represented for nine seasons, remaining clear that Simeone did everything to keep him there.
"At the time I cried because it is difficult when you leave your home, when you leave the place where you always wanted to be, the place you love, where you have people who love you and that you love. But I will always have beautiful memories of Atleti. Simeone was the coach and he publicly said a lot of times that I couldn't go, that it was Godin and 20 more."
In 2019, he left. But Godin could've left in 2015 when Man City activated his release clause and then some. But Cholo and Diego's players mutinied, forcing the board into extending Godin's contract.
"Yes, that was the summer of 2015. Manchester City came and paid more than my clause, because I wanted to do it on good terms. And I was negotiating with Atletico and City was pressing, Cholo found out in Japan, because the team was touring Asia, although I was in Madrid because I had returned later from the America's Cup. Everyone closed ranks, I remember Gabi, Raul Garcia, Tiago, all my teammates and Cholo too and he said: 'If Godín goes, I'll go.' They are gestures that I have to thank. Actually, that shows what group there was."

Godin's compatriot Luis Suarez has been a smash hit for Atletico getting 19 goals in 25 league games, with Marcos Llorente being exquisite too. Getting nine goals and eight assists in 28 matches. While Joao Felix opened the season up smashingly. Yet, Godin sees another as the top player of the season, talking about it unprompted, when asked about his successor.
"Since you name Savic, it is worth noting. Little is said about Stefan's season. He is the best player, the most regular, of Atletico de Madrid. It is true that Marcos Llorente has played great games, like Koke, Suárez, Oblak, but Savic has had an impressive consistency. He has only lost two games. He has supported the defence because he has had the losses of Giménez and Felipe and Hermoso have played something else. Savic's season is impressive."