City goes to Anfield without Ederson, Guardiola confident in Bravo
8.11.2019.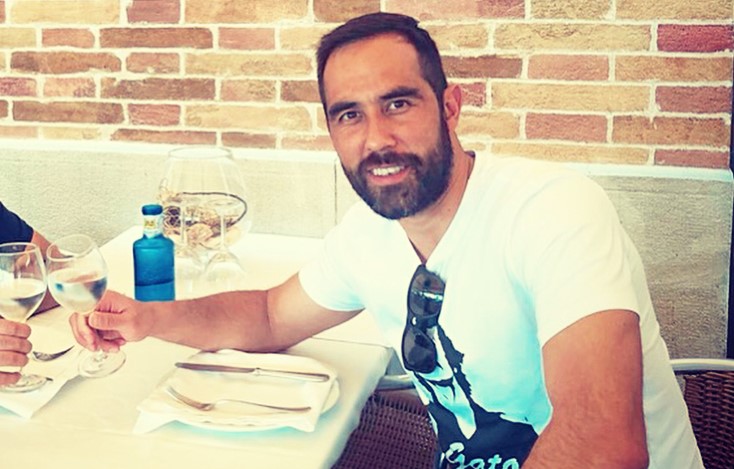 The biggest derby in the Premier League season - and currently probably the biggest derby in the world of football - is upon us. Manchester City travels to Liverpool while trailing six points on the table, and they do so missing two key components to their team. Besides the long-term injured Aymeric Laporte, Pep Guardiola won't be able to count on the goalkeeper Ederson.
The Brazilian keeper is ruled out by the muscular problem he sustained against Atalanta this midweek.
City's replacement is Claudio Bravo, and Pep Guardiola was annoyed with being asked if he doubts about the Chilean keeper.
"Why should I doubt any player in my team? Why do you ask these questions? You have to respect this guy – he has won trophies and the Copa América. Bravo can do it, of course. We won the Carabao Cup with him, he's an exceptional keeper, played a lot of games with his national team," said Guardiola, although Bravo was in the side who beat Arsenal in the 2018 Carabao Cup final. He was dropped for Ederson for last season's triumph over Chelsea.
The short play-time of the Chilean doesn't concern the tactician too.
"Why would I have doubts because a player does not play regularly? I'd not want to be a player who was doubted by his manager. I've seen him in training and I know how fired up he is and how good he is. We are not going to lose because of Claudio."
Guardiola defended the Chilean for his sending off in the mid-week Champions League match, and the lukewarm start to his career at Manchester City.
"The red card was because we lost the ball in a dangerous position. In the first season when he was a little bit struggling in the Premier League it was because he comes here and the team was not at top level. The problem was not Claudio. It is easy to point that he is the problem," said Guardiola while adding that any player who didn't have faith in wouldn't be in the squad.
Bravo won Copa America twice with Chile, in 2015 and 2016.