Borussia will try and catch up to Bayern with a limp: Witsel out for months!
13.1.2021.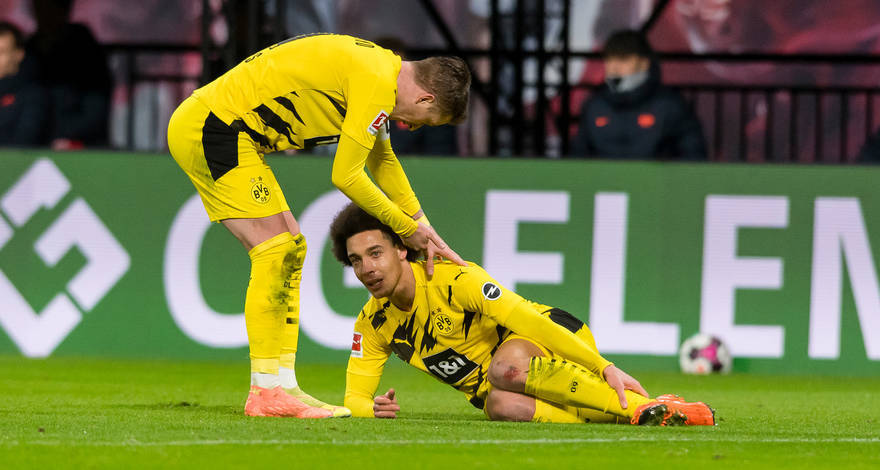 A title on the Borussia Dortmund's website couldn't be clearer "BVB is set for a long spell without Axel Witsel." BVB won its vital derby against RB Leipzig mostly due to Erling Haaland's heroics, but the club made a significant step backwards in the season by losing Witsel.
The Belgium midfielder had to leave the pitch in the 30th minute of the game and was replaced by Emre Can. Cutting the celebrations short, BVB quickly released information that the player has torn his Achilles tendon in the first half of the game and is expecting months on the sidelines.
As reports state, it will be a miracle if Witsel is ready for the European championship this summer!
Witsel has already played 22 games for BVB this season only and the 32-year-old has been instrumental for the club since arriving in the August of 2018 following a stint in China. Witsel played 104 games for the club, scored 11 times and made six assists. He was one of the rare constants in the club and has so far suffered only injuries that kept him outside of up to four games.
All in all, Witsel has missed only nine games for BVB due to injury, even though he had some injury issues earlier in his career.
He took to Instagram to say his thanks for the people supporting on his route of recovery.
"Thank you everyone for the messages of support. Today I had a successful operation and now I will be working hard to recover day by day and aim to return stronger than before. With the support of my friends and family I will be back," wrote the 32-year-old.
Emre Can is the only proper replacement BVB has on this position, although Thomas Delaney and Mahmoud Dahoud can both play as more defensive midfielders too. Also Jude Bellingham, although a positional switch could be too much to ask of such a young player.
Meaning that Borussia might even end up dabbling in the transfer market this January.