Best transfers of the 2020 summer window
19.10.2020.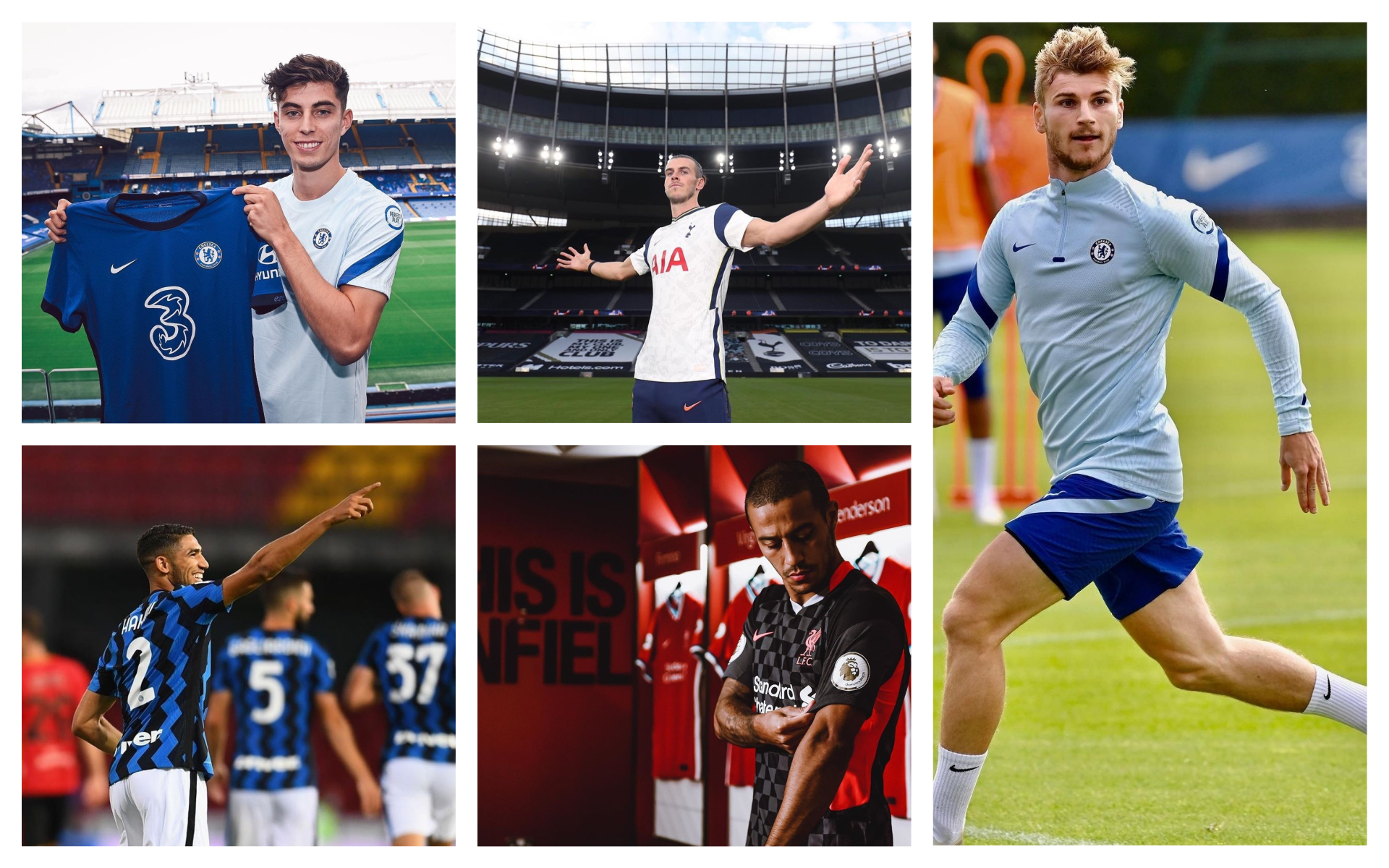 While the financial crisis hit some clubs harder than others it left the room open for some all-time great bargains to be concluded. Which made concluding this list of best transfers of the 2020 summer window all that harder to make.
Basing the decision on player quality, transfer fee paid, the need for such a type of player at the new club, age, commercial value, and the potential resale value, we selected these 10 players who switched clubs this summer.
10. Arthur Melo - Barcelona to Juventus
While the deals that brought Artur Melo to Juventus and Miralem Pjanic to Barcelona are not technically a swap, they are, even though the books say otherwise. And Juventus swindled Barca like few managed as Arthur is 24 and only coming close to his prime, while Pjanic is 30 and hasn't been on his top level for around two seasons.
Melo's transfer might rise up another €10,000,000 to make it 82 million total while Pjanic moved for €60,000,000. Making Juve's expenditure effectively 12 or 22 million. For a creative, agile Brazil international with 20 caps already. Juve wasn't impressive during this transfer window as usual but this deal clearly has a winner and a loser.
9. Kai Havertz - Bayer Leverkusen to Chelsea
When Germany's top football authority for evaluating players Ralph Rangnick calls you a modern Johan Cruyff, you're making the list regardless whether your fee is €80,000,000, as the English claim, or full €100,000,000 as the German media states.
Havertz has a peculiar nickname in his country - Alleskönner - the one who can do all. His versatility is only a part of the 21-year-old's appeal as he looks so comfortable with the ball at all times. Composure is another strong suit and Kai will learn from the best goalscoring midfielder of the Premier League ever - Frank Lampard. Being so young, Havertz should be Chelsea's key player for six years and possibly longer.
8. Sandro Tonali - Brescia to Milan
Being one of Italy's top three young talents in 2020, acquiring Sandro Tonali is a massive deal for Milan. Oozing maturity even though he's just 20, Tonali reminds others of Andrea Pirlo while he models himself after Gennaro Gattuso.
The lifelong Milan fan comes on a loan with an obligation to buy, with €10,000,000 paid for the loan, another €15,000,000 for the transfer next summer and another €10,000,000 possibly in bonuses. With Brescia getting €15% of his next transfer fee. Even with all of this money combined, Tonali threatens to be a steal even if he comes to 80% of his potential.
7. Luis Suarez - Barcelona to Atletico Madrid
Not to include Luis Suarez on this list would be a sin as the Uruguayan is one of the very best strikers of the 21st century. With 195 goals scored for Barca with another 113 assists, meaning he has more goal involvements than games - 283. He is already sticking to the same course at Atleti with four goals in three matches and one assist.
The Uruguayan is still not that old and two seasons under his astronomical standard don't warrant the decision Barca made to offload him at any price. No price to be exact, as he also moved for free while Atletico will pay €2,000,000 every year they reach the Champions League quarter-finals. As much as this is a list of best transfers of the 2020 transfer window, it's also a list of the worst transfers. It's all based on perspective.
6. Arturo Vidal - Barcelona to Inter
With the addition or Arturo Vidal to Nicolo Barella and Radja Nainggolan Inter has the best central midfield in Italy, possibly in Europe. At the very least the most energetic one. Despite Vidal being 33 years old, he is still quite fit and every bit as ferocious as his haircut imply.
Barca gave away the Chilean for free trying to get rid of his salary due to the bad financial situation the club is in. With Blaugrana possibly earning some change on bonuses. Inter already tried signing Arturo in the winter and failed to do so. Vidal now reunites with his former Juventus manager Conte with whom he already won titles.
See which clubs won the transfer window overall. Spoiler alert: it's not Barcelona.
5. Gareth Bale - Real Madrid to Tottenham Hotspur
One of three players on this list that left Real Madrid and the only one whose move is a straight-up loan. But Gareth Bale belongs to the very top of world football. For a while, he was the closest player we had to Cristiano Ronaldo and Leo Messi. Injuries have plagued his career but the stats were still on a similar level as in his first years with the 2018/2019 season saw him feature in 42 games.
Even if Bale doesn't live up to the high expectations it's a brilliant piece of business by Tottenham's Daniel Levy as Real will pay for more than half of his wages. While Tottenham could keep the 31-year-old for the next season as well and the commercial windfall from shirt sales of a club legend must be astronomical.
4. Thiago Alcantara - Bayern Munich to Liverpool
For the majority of the previous season, it was stated that right-back Trent Alexander-Arnold is Liverpool's playmaker. Now, the Reds have brought in one proper midfield facilitator in his prime at that and paid him only €22,000,000, with another €5,500,000 coming in the form of bonuses.
To do that to Bayern of all clubs is transfer magic by Liverpool even though Alcantara's contract was expiring in 2021. Thiago is a proven midfielder as they come, coming of a Champions League triumph with loads of trophies in the bag prior. Definitely one of the bargains of the 2020 summer transfer window even by this year's much-lowered standards.
3. Achraf Hakimi - Real Madrid to Inter
Probably no other player on this list is a better match for his new manager as Achraf Hakimi is for Antonio Conte's style of football. The 21-year-old Morrocan is already one of the best right wingbacks in the game and Real might sorely regret the decision to sell him so easily and quickly. Regardless of their other strong options on the position.
Hakimi built his name in Germany with Borussia Dortmund and is now ready to dazzle Serie A with his speed, stamina, and precise crossing. A €40,000,000 deal was quickly conducted and while it's much bigger compared to all but one signing Inter made in the Conte era, it promises to be the best.
2. Timo Werner - RB Leipzig to Chelsea
There was no better option on the market for what Chelsea needed, simple as that. A young striker with loads of experience on the highest level for club and country. Werner already has 91 Bundesliga goals in 222 matches in the division, while he played for Germany 33 times being only 24.

The Blues managed to sign him for €53,000,000 despite interest from Liverpool of all places. With Chelsea's bad reputation for signing expensive strikers, a lot of people expected Werner to fail too. Yet, already his market value jumped to €70,000,000 by Transfermarkt and Werner is slowly but securely showing that he is more than just a speedster.
1. James Rodriguez - Real Madrid to Everton
If the originally reported transfer sum of €22,000,000 was accurate James Rodriguez wouldn't even crack top ten regardless of the quality performances he's been putting in. But since it was later revealed that Everton got the Colombian star for free, the first position was never in question.
Age 29, James is still in his prime and is a type of player that doesn't rely too heavily on his physicality. To make matters even sweeter for the Toffees, their new number 10 has 46,500,000 followers on Instagram. He is a bonafide superstar in South America and will help Everton establish themselves strongly on the footballing fertile continent.
Best transfers are not the same as the most expensive transfers of the 2020 window - check them out here.