Another Serie A flop is terrorizing Bundesliga this season: Schick's poker puts him right behind Lewa
5.12.2021.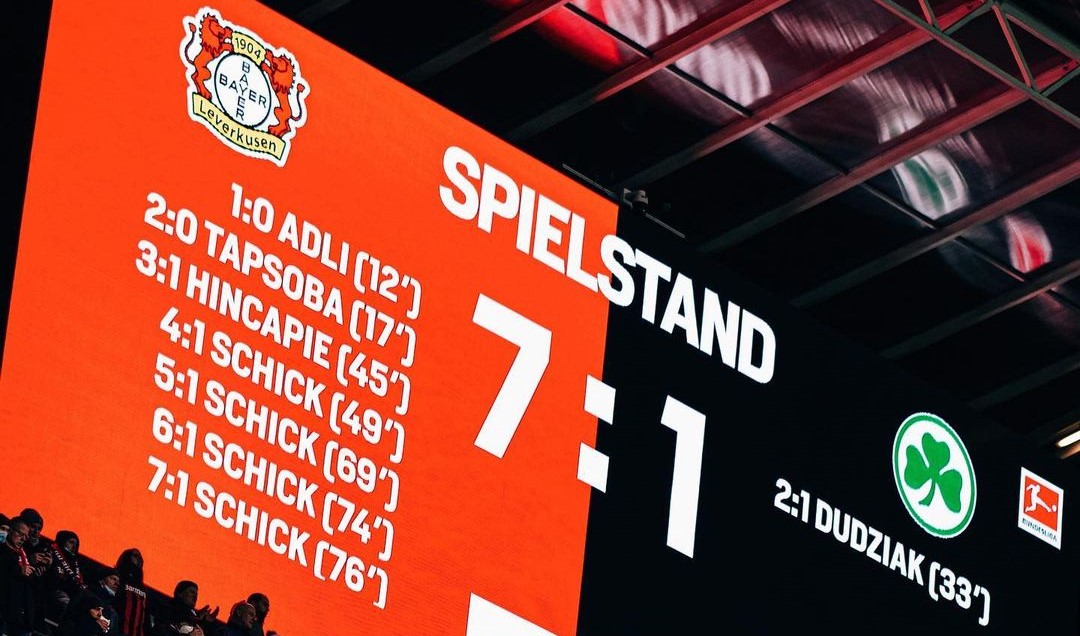 Scoring the lob from half a pitch at the Euros announced Patrick Schik back to the world this summer. Over the last year, with 13 goals scored in the Bundesliga, the Czech took back the prospect labal after carrying the flop moniker for a while. Yet this season in the Gemran league, the Bayer Leverkusen striker has been tearing it up.
After Andre Silva, a flop for Milan in his past, terrorized the Bundesliga defences last year and finished second in the top goalscorers rankings, behind Robert Lewandowski. Now Roma's €42,000,000 flop Patrick Schick is threatening to do the same.
With four goals scored in the 7:1 demolishment of Greuter Furth, the Czech striker took the second spot in the "Kicker top scorer cannon" race, as it is called in Germany. The 25-year-old scored the last four, all in the second half, becoming the first player in Leverkusen history to score a "Viererpack" (four goals in a single match).
By scoring four goals in one half of play, uninterrupted by any other player scoring in-between, the 25-year-old also simultaneously completed a "Blitz-Hat-Trick" and a "Lupenreiter" (flawless ride).
Schick joked about the first half though, not mentioning the assist he recorded for Piero Hincapie's goal, Bayer's third.
"I didn't even get a shot on goal during the first half. Afterwards, my teammates serviced me brilliantly so I really didn't have any problems. It's like a ketchup bottle. At first nothing comes out. Then, after the first goal, everything rushes out at once," stated Schick while mentioning that it seemed like the opponents gave up late in the match.
Scoring his first in the 49th minute, Schick had a quick burst of bagging goals in the 69th, 74th, and 76th minute.
Schick now stands at 12 goals in the league, one fewer than he got in the whole of last season. While missing three games this campaign due to injury. He is one goal ahead of the sensation Erling Haaland, and four behind Robert Lewandowski.