Ajax iron up their last remaining gold pony with a new contract
5.12.2020.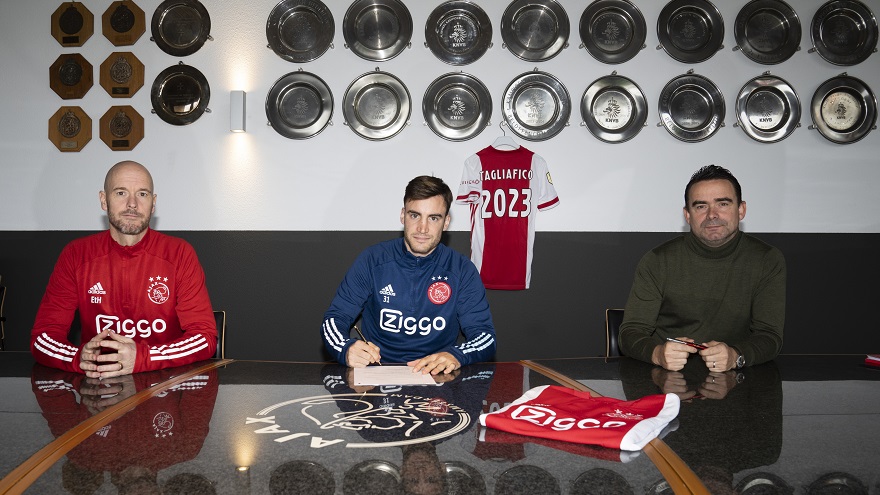 Nicolas Tagliafico spent the whole summer reading his name in the newspaper and online, as he was being linked with several clubs across Europe but mostly in England. Ajax's left-back is one of the most respected players in that position worldwide, and it was believed it was only a matter of time before he jumps ships.
But in the end, Ben Chilwell moved to Chelsea and Leicester didn't buy a replacement. While Tottenham brought in Sergio Reguilon and Manchester United bought Alex Telles. So Tagliafico stayed in Amsterdam.
Ajax has announced that the 28-year-old signed a new contract until 2023, despite his advancing age, meaning he can have just around five years of top salary a Premier League club could give.
"I am happy to be here at this club. I want to achieve our goals. That's the most important thing for everyone," started the Argentinian.
?????????? ???? ??#Level2023 pic.twitter.com/MZY9zgZqFH

— AFC Ajax (@AFCAjax) December 4, 2020
He already played 111 matches for the Lancers since arriving from Independiente in January of 2018 for a fee of €4,000,000. His market value now stands at €28,000,000 according to Transfermarkt.
"It is important to play as many matches as possible. Hopefully, there will be a lot more and also in the way I play now. I really feel at home at the club."
Yet, the contract is just a way of Ajax securing that Nico will be sold for more money in the summer, as it is really hard to imagine him staying until his 29th birthday in August. With Bayern Munich possibly losing David Alaba, Tagliafico seems like the proper choice.
While the Argentinian didn't hide the fact that it was mostly the pandemic and the resulting financial crisis that have kept him at the Johan Cruyff Arena.
"Of course it has been a very strange year because of corona. That was not good for the club and not for me, so it was better to wait. Thanks to this extension, we can continue to work in peace and see what happens."
With the club selling so many of its key players in the last two seasons, it seems that Tagliafico is the last remaining golden hen the Ajax factory has produced or enhanced. For the time being that is.