10 most expensive winter transfers ever
10.1.2021.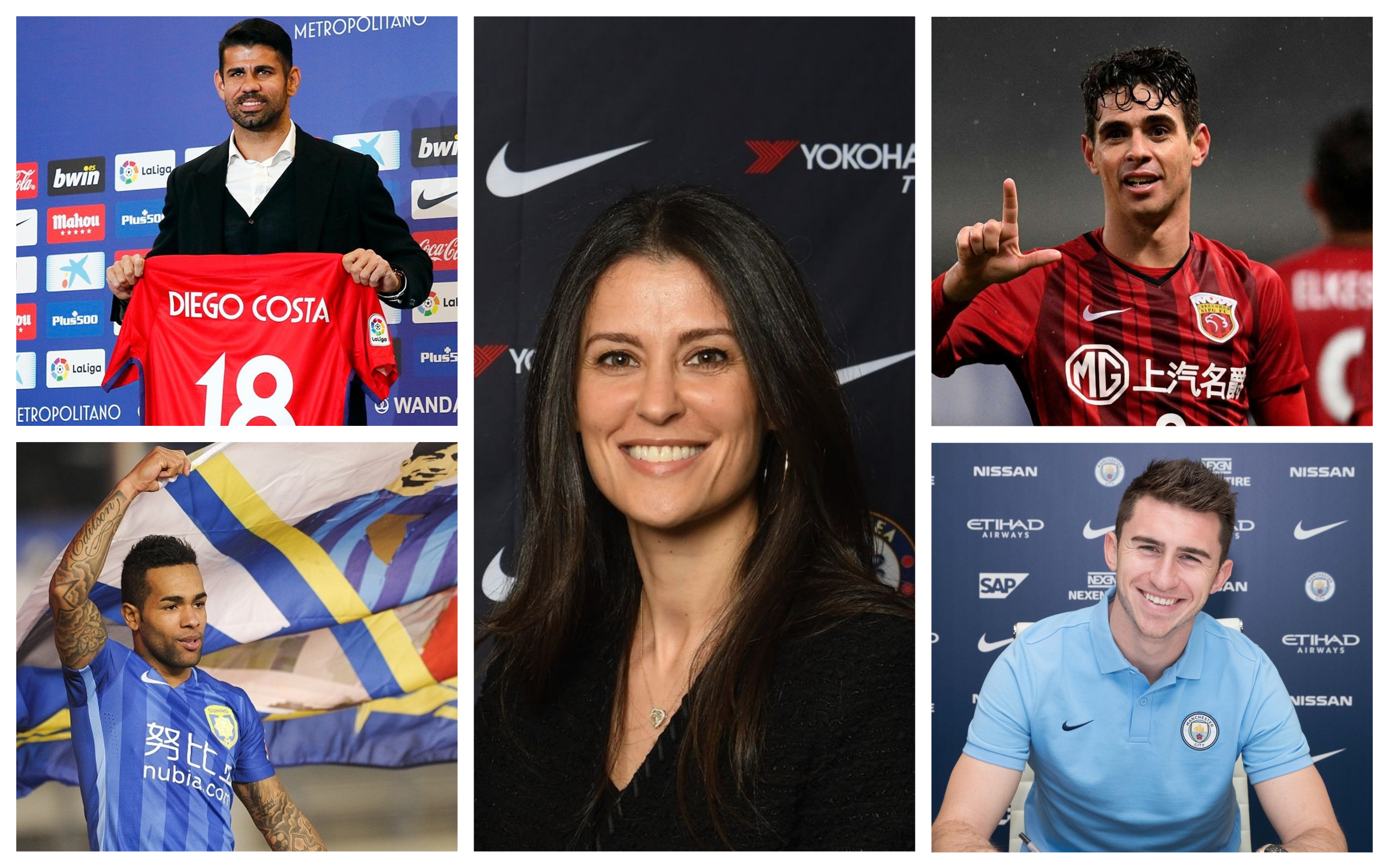 With the lacklustre previous season and the congested period for purchases that overlayed the playing time with the buying time, teams had to step up this January. Yet, there still hasn't been a massive transfer that is close to breaking into the top 50 most expensive winter transfers ever.
Mostly illustrating how the January transfer market could still be of huge importance for teams. Although it is usually a place to patch up holes in the team, capitalize on players whose contracts are running out, and get some loans.
But there are still heavy transfers that have left the mark on the financial side of football, but also on the performance side of it. With some overall records getting broken in the winter as well.
10. Alex Teixeira - Shakthar Donetsk to Jiansung Suning for €50,000,000.
One of two incoming transfers to China on this list of January's most expensive signings. Alex Teixeira was highly regarded across Europe at the time of the transfer, even though he played out in the east in Ukraine, yet he said yes to Chinese money. After scoring 89 goals, making 25 assists in 222 games for Shakhtar he moved to Jiangsu Suning in 2016. He remains at the club to till this day with 153 matches played, 73 goals and 43 assists, and one title of the champion of China.
9. Fernando Torres - Liverpool to Chelsea for €58,500,000
One of the biggest flops in world football, arguably the biggest before Alexis Sanchez joined Manchester United and the first place on this list of most expensive January transfers. Chelsea bought Fernando Torres mid-season. Coming as a red-hot striker, one of the best players on the planet during his time at Liverpool, where he scored 81 goals and made 20 assists in 142 games, Torres went on to have horrid time at Stamford Bridge.
His overall record with the Blues wasn't terrible, but far more was expected at the start of 2011. The Spaniard scored 45 goals and made 35 assists in 172 games for Chelsea, winning the Champions League, Europa League, and the FA Cup. Three more trophies than at LFC.
8. Oscar - Chelsea to Shanghai SIPG for €60,000,000
One of the players who left Europe before even reaching his prime. But anyone who took notice of Oscar's life outside of football, couldn't have been surprised with his decision. The Brazilian moved to Asia in 2017, when he was 26, all after being solid for the Blues with 38 goals and 37 assists in 203 games. At Shanghai, he scored 45 goals, made 77 assists in 145 games, becoming a champion once.

7. Diego Costa - Chelsea to Atletico Madrid for €60,000,000
A move that doesn't get talked about often considering the heavy pricetag Atletico Madrid paid to bring their former player back. After scoring 64 goals in 135 during his first two seasons at Atletico, earning a move to Chelsea, the former Spain representative scored only 19 goals in 81 matches after moving back in 2018. Costa finally got a mutual termination of the contract mid-2020/2021 season after both parties realised it's not working out.
Yet another outgoing Chelsea transfer and one of the biggest wins for their director Marina Granovskaia.
6. Pierre-Emerick Aubameyang - Borussia Dortmund to Arsenal for €63,750,000
A transfer that signalized that Arsenal got its spending power back and the purchase of their current captain. The Gunners can't be dissatisfied with the transfer, as Pierre-Emerick Aubameyang scored 76 goals in 127 games alongside 16 assists. While the Gabonese has committed to the club longterm. But the 31-year-old has been in a bit of a slump this year and the club is performing terribly.
Arriving from Borussia Dortmund where he scored 141 goals and had 36 assists in 213 games, but didn't have the leadership role, Auba is the least of Arsenal's worries.
Check out how the biggest winter transfers of 2020 have fared out.   

5. Christian Pulisic - Borussia Dortmund to Chelsea for €64,000,000
Fourth inclusion of Chelsea on this list, second as a buying club. With the back-to-back BVB appearance as the selling club, naturally. The American stayed on loan at the club for the season. Looking at his stats at the German club, it's not easy to deduce why the Blues paid so much for him. Only 19 goals and 26 assists in 127 games, numbers his replacement Jadon Sancho is getting in a single season.
At Chelsea, the winger has scored 13 goals and made 10 assists over 47 games, but being only 22 years of age, time is very well on his side. While the USA national team member has shown glimpses of brilliance.
4. Aymeric Laporte - Athletic Bilbao to Manchester City for €65,000,000
Left-footed centre-backs are a rare commodity so it's not surprising that Manchester City splashed the cash for the French defender. Especially considering how vital this role is for the manager Pep Guardiola. Laporte has had injury issues, but he has still been a resounding success and has played 92 games, scoring seven times and getting three assists.
He played 222 games for Atlethci Bilbao prior to his move in 2018 yet the player still hasn't made his debut for the France national team. Laporte's move is also special because its the only big winter transfer on this list whose backstory can be viewed in Man City's documentary All or Nothing.
3. Bruno Fernandes - Sporting Lisbon to Manchester United for €80,000,000
While his initial transfer fee of €55,000,000 puts Bruno Fernandes on the ninth spot of the list of most expensive January signings, the add-ons have him third. While there was a question whether the Portuguese playmaker will trigger them back when he made the jump from Sporting Lisbon in 2020, there are none now.
Exceeding the expectations, the 26-year-old has scored 27 goals and made 17 assists in 47 games for United. His untypical career took him to Sampdoria, Udinese, and Novara first before returning to Sporting where he had 63 goals and 52 assists in 137 games.
2. Virgil van Dijk - Southampton to Liverpool for €84,650,000
The most expensive defender ever at the time of his purchase in 2018, Virgil van Dijk has repaid every cent invested in him. While the manager Jurgen Klopp is the face of Liverpool, the attacking trio is revered, VVD is the column upon which LFC's recent success have been made. Two Champions League finals, one victory in it, and a Premier League title after so many years, 30.
It's safe to say that the 29-year-old has really paid off for the Anfield club in 130 games already. Arguably the most valuable winter transfer ever. His long-term injury in the 2020/2021 season won't change that. The tall centre-back scored 13 goals and made six assists following his move from Southampton. With the Saints, he played 80 games and got seven goals too, while already establishing his reputation at Celtic prior.

1. Philippe Coutinho - Liverpool to Barcelona for €145,000,000
Battling his way out of the Liverpool squad, Coutinho made one of the biggest evaluations a player has made in recent times. As Barca has fairly struggled recently, while LFC excelled since the move. The most expensive winter transfer ever is a flop. There's no way around it.

Coming as a replacement for Neymar, the 28-year-old Brazilian failed so much that Barca quickly realized it's impossible for him to do so and tried getting their original left-wing back.
In 90 games for Barcelona, Coutinho has scored 23 goals and made 14 assists, while also spending a season on loan at Bayern Munich. He is the fifth transfer on this list of biggest January moves that happened in 2018, showing just how much winter can be busy.
But also illustrating that one big move in January can snowball and create quite the commotion across Europe, sparking other most expensive winter transfers.