€100,000,000+ football transfers ranked from best to worst
1.3.2022.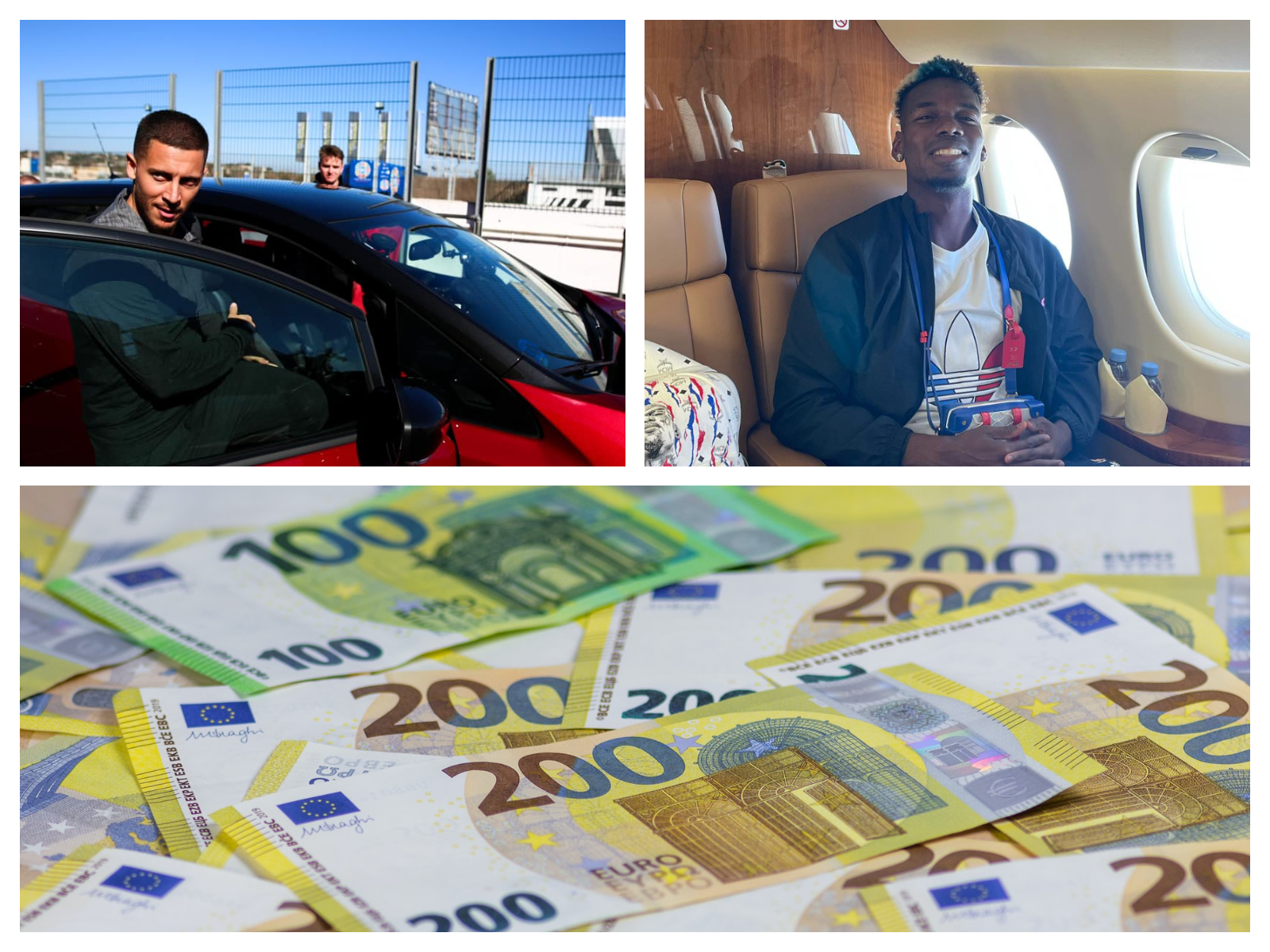 At the start of 2021, Southampton, a Premier League club for 10 straight seasons with an enviable academy and top facilities changed majority owners for €118,000,000. A stake of 80% of an English club with a stadium built in 2001. So to have players who have cost their respective clubs more than €100,000,000 is quite the event even in an industry as powerful as football. There have been 12 €100,000,000+ transfers so far.
Two of them, Romelu Lukaku and Jack Grealish, arrived at their clubs, Chelsea and Manchester City, in the summer of 2021. Hence, adequate time to value them fairly hasn't passed. Although early indications show that they will follow the trend and disappoint.
10 €100,000,000+ transfers ranked from worst to best
10. Eden Hazard - Chelsea to Real Madrid for €115,000,000
If you'd asked anyone whether Eden Hazard will be a flop for Real Madrid at the time of his transfer, people would've laughed at you. For years, the Belgian has been amongst the 10 best players in the world. Playing in 352 games for CFC, scoring 110 goals and making 92 assists, Hazard was also one of the 10 most employed outfield players in the top five leagues across the decade. Yet injuries have shattered his career, perhaps because of the previous heavy toll, perhaps due to his easy-going approach to training. Yet Eden has played in only 65 games for Real since joining in 2019, scoring six times and making 10 assists. Playing only 51 minutes per game on average, and getting a goal involvement every 207 minutes on the pitch!
There have even been reports that Real actually paid €160,000,000 for Hazard.
9. Philippe Coutinho - Liverpool to Barcelona for €170,000,000
English media is unified in reports that the transfer of Philippe Coutinho rose up to €170,000,000 due to ad-ons. Now the player is on his second loan out of the club, with Aston Villa, after playing for Bayern Munich in the 2019/2020 season. Getting to play in 106 matches for Barca since the winter 2018 move to Nou Camp, the Brazilian made 39 goal involvements, 25 goals and 14 assists. A goal involvement every 159 minutes. With frequent injuries and a significant drop compared to his LFC form, the man who was supposed to replace Neymar failed infamously.
8. Ousmane Dembele - Borussia Dortmund to Barcelona for €140,000,000
Another Barcelona transfer that inflated over time, and not the last one of the Spanish club. Ousmane Dembele's move was troublesome from the start and showed maybe the player isn't worth the investment. Trashing the house Borussia Dortmund provided for him, the young winger got his desired move to Nou Camp. There, his unprofessionalism became a public fact, greatly contributing to at least 14 injuries he sustained at FCB since his transfer in the summer of 2017. Making him miss out on at least 116 games. His return isn't bad, with 32 goals and 26 assists in 134 games, yet he has failed to contribute in the important games. Now, despite spending a significant portion of his time in Catalonia in the infirmary, Dembele is not ready to extend the deal with Barca.
7. Paul Pogba - Juventus to Manchester United for €105,000,000
A transfer that broke the record in 2016, Paul Pogba returned to Manchester United after four years at Juventus. Yet it showed that the midfielder had the privilege of working with players that made him look far better, while his attitude was under check by powerful authorities in the dugout and the dressing room. At United, he often showcased weak will to contribute regularly.
Playing a total of 219 games in his second stint, Pogba returned 39 goals and 50 assists, yet also had injury issues and anonymity when it mattered the most. Missing at least 84 games due to fitness issues, Pogba had only two seasons with 30 or more league games played in the last six campaigns. Also, his stay was a constant atmosphere hindrance to the Old Trafford dressing room due to his agent constantly speculating about his possible departures. Now, Pogba will most likely be a free agent in the summer with fewer suitors than expected.
6. Antoine Griezmann - Atletico Madrid to Barcelona for €120,000,000
A €120,000,000 transfer was returned to sender, yet Griezmann's impact at Barcelona was understated. In 102 games for Barca, he returned 35 goals and 17 assists, while playing for the worst team FCB had in decades. Now sent on a loan back to Atletico Madrid with an obligation to buy for €40,000,000, it's clearly easy to spot that Griezmann was another symbol of the bad business done by the previous Barca board led by Josep Maria Bartomeu. Yet Griezmann was available for most games and didn't disrupt the squad or bring the negative press to the club, besides the price tag. And Barca at least got something back for him.
5. Joao Felix - Benfica to Atletico Madrid for €120,000,000
Now we reach the half point of the breakdown of €100,000,000+ transfers and here it's where the pendulum swings from flops to transfers that are at the very least OK. Joao Felix hasn't produced the numbers that one would expect from a €126,000,000 player, yet still has four years on his contract and only 22 candles on his last birthday cake. Felix was also a part of the team that won La Liga last season, against odds. Yes, his return of 24 goals and 14 assists in 102 games isn't that far from the flops listed, yet he is playing in a defensive team and is coming into his own. His magic touch ensures Atleti will be able to sell him in the future for near the price tag he already had.
4. Neymar - Barcelona to Paris Saint-Germain for €222,000,000
The most expensive player in the world has won a lot, three leagues, three cups, and two League Cups in France, yet he has missed around 50% of all possible PSG games he could've played. That's a lot of matches on the sideline, in front of the TV, since his move in 2017. He played in only 133 games for the French giants, although the Ligue 1 cancellation due to covid-19 cut those numbers by possibly 20 or so games. Yet his statistical return is stellar, with 91 goals and 56 assists. Making him the leader of our list of injury-susceptible players that have made tremendous careers despite it.
Yet, Neymar was brought in to win the Champions League and he has failed. Furthermore, the club was embarrassed by losing the title to Lille in the 2020/2021 season and that is a blemish on Ney's impact at PSG.
3. Cristiano Ronaldo - Real Madrid to Juventus for €100,000,000
While the irrational critics of CR7 and journalists looking for clicks using hot-takes and his name value like to label Ronaldo's move to Juventus a flop, Cristiano brought a lot more to Juventus than he took. The failure in the Champions League knockout stages can't be overlooked though. Stil, looking at other €100,000,000+ transfers, Cristiano brought a lot to Bianconeri. Commercially where he increased the following and the sponsorships, but also sportingly.
The veteran got to score 101 goals in 134 games for the Old Lady, with 22 assists. While playing for three different managers, one of them a rookie. Winning the league twice, the cup once, and becoming the top scorer one year. More importantly, he elevated the players in the squad with his mere professionalism-inspiring presence. He wasn't a disruptive force. Also, Juve got some of his cost back from the transfer from Manchester United. Certainly, both Juve and Serie A are ecstatic with what he brought to them.
2. Gareth Bale - Tottenham to Real Madrid for €104,000,000
The first move to break the €100,000,000 mark, coming all the way in 2013. Yes, it's easy to point now to Bale's weak involvement with the club in the past years, even going back on a loan to Spurs last season. It's easy to mock Real and Bale with the phrase "Wales. Golf. Madrid, in that order", as the former Real player and director Predrag Mijatovic described Bale's allegiance. Yet Bale firstly delivered.
Despite the many harsh injuries, Bale helped Real won the four Champions League trophies, three of them consecutive. He won two La Ligas, four Club World Cup competitions, one cup, and three Uefa and Spanish SuperCups each. Scoring vital goals in finals and getting to 106 goals and 67 assists in 256 games. For most of whom he wasn't the vocal point of attack.
1. Kylian Mbappe - Monaco to Paris Saint-Germain for €145,000,000
The only €100,000,000+ transfer that doesn't have any questions next to it. Even if Kylian Mbappe leaves the club for free this summer, even with the embarrassing league title defeat to Lille last campaign, Mbappe has been a hit for PSG. Now he has equalled Zlatan Ibrahimovic as the second-best goalscorer for the club with 156 finishes, alongside 78 assists. And the 23-year-old played 205 matches since his move in 2017 that was initially a year-long loan with an obligation to buy.
If Mbappe continues on with PSG beyond this season, it will further solidify his move as the best €100,000,000 or more transfer in history. So far. More are coming.